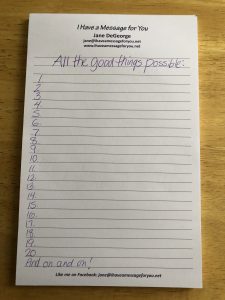 When's the last time you asked yourself what's the best possible thing that could happen? I'm smiling as I write this. This morning, as I prepared to post on LinkedIn, a piece on trusting God, I journaled.  Journaling is my way of communicating with God and yes, He answers.
As I journaled about writing a LinkedIn post, something I never did before, I was about to write, what's the wor . . . I am sure you can finish the word. It's the opposite of this post's title. And I stopped and laughed. Why would I want to write out anything except All the Good Things Possible if I post? There could be so many! I set up my note paper to write a list of 20. As I psychic medium, I know everything always works out.
So often we prepare ourselves for the worst instead of putting out the intention of expecting and experiencing the best. I am glad I went with the positive. And guess what? I am happy and productive. I posted on LinkedIn, Facebook and have this blog post finished by 9:03 am. Lots of good things happened already today by asking the question, What's the Best Possible Thing that Could Happen? Next up, figure out how to post the All Good Things List, call the accountant and continue to write.
Hoping you, too, look for the best possible things!
Jane